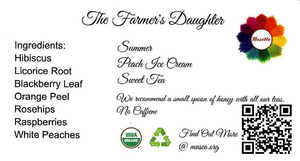 Musette Atelier
The Farmer's Daughter
Regular price
$20.00
$0.00
Unit price
per
Sip, Smile, and Savor: Discover the Delight of The Farmer's Daughter Tea!
Say hello to your new favorite cuppa – The Farmer's Daughter! Handpicked from our bountiful farms and tenderly crafted with a hint of whimsy, this artisanal tea blend is just the daily delight you've been looking for.

The Farmer's Daughter is not your run-of-the-mill tea. It's a story steeped in warmth, a journey through fields of fragrant herbs, and a love letter to the simple joy of sipping a perfectly brewed cup of tea. It captures the spirit of life on a farm – fresh, organic, and honest.
Like our Sonoma Ranch, our tea is robust and charming, nurturing a deep connection with the earth. We've delicately combined a variety of fresh, locally grown ingredients, weaving together a tapestry of flavors that will transport you to sun-dappled fields and the laughter-filled air of a farmyard at dawn.
Each sip unfolds a lively blend of traditional and unique flavors that dance on your taste buds. You'll discover rich notes of green tea, a playful swirl of chamomile and mint, a hint of zesty lemon, and a sweet lingering of honey – a unique concoction to delight your senses and soothe your soul.
The Farmer's Daughter is more than just a cup of tea. It's an invitation to slow down, to savor the moment, and to reconnect with nature's bounty.
---