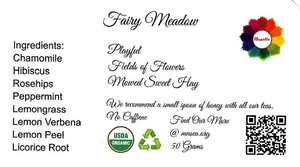 Musette Atelier
Fairy Meadow
Regular price
$20.00
$0.00
Unit price
per
✨Discover the Magic in Every Sip✨
Ever wandered in your dreams through an enchanted forest, guided by the whimsical whispers of the wind? That mystical aura and euphoria are now captured within every aromatic cup of our Fairy Meadow Tea.
🍵 Fairy Meadow Tea - Imbibe in Pure Wonder 🍵
Derived from carefully selected organic tea leaves, the Fairy Meadow Tea is a blend of delicate floral notes and subtly sweet undertones, a whisper of the ethereal realms. A brew that promises not just a beverage but an experience that transcends the ordinary.
💫 Key Features:
Euphoric Aroma: The aroma of our Fairy Meadow Tea resembles a lush, blossoming meadow, weaving a tale of magic and charm with every brewed cup.
Organic Blend: Sourced from the best tea estates across the globe, we ensure every leaf that goes into your Fairy Meadow Tea is 100% organic, pesticide-free, and handpicked to perfection.
Exquisite Flavor Profile: This blend presents a symphony of floral undertones and gentle sweetness, creating a cup that's as delicious as it is memorable.
Perfect for Any Time of Day: Whether it's a morning pick-me-up, a peaceful afternoon break, or an evening soothing sip, Fairy Meadow Tea is your perfect companion.
🌷 Enjoy the Enchantment of Nature in a Cup 🌷
Feel the harmony of a fairy meadow gently unfolding within you with every sip. The Fairy Meadow Tea invites you on an enchanting journey, infusing your senses with magical tranquility found in the heart of the most mystical meadows. This is more than just tea; it's an invitation to a moment of serenity, a moment truly your own.
💖 Discover Your Magical Moment Today 💖
Ready to embark on a journey to the fairy meadows? Experience the enchanting blend of Fairy Meadow Tea. With our current limited-time offer, enjoy free shipping on all orders!
Order now and let the magic find you with Fairy Meadow Tea - because you deserve a daily dose of enchantment! 🍃✨🍵
---
Fairy Meadow Tea
✨ Sip the Magic, Live the Moment! ✨
---